BUDGET HOLIDAY SAFARIS
Choose a safari holiday with experts who know Africa.
Budget Holiday Safaris is a tour operator in Kenya and Tanzania, offering Kenya budget safaris, Kenya lodge safaris, Combined Kenya and Tanzania budget, and luxury safaris to individuals and groups. We also offer day trips, Mount Kenya climbing safari packages, Mount Kilimanjaro Climbing Safaris, and more adventures to the two countries.
Budget Holiday Safaris is operated by highly qualified professionals, who have an experience of more than ten years in the tourism industry. The company works with various key partners in the Travel and Hospitality Industry in Kenya and Tanzania to provide the best services to clients.
We have diverse holiday safari services that can be tailor-made to suit your personal needs and our specialized staff works together to provide the best services to our diverse clientele. Located in the Nairobi City Centre, our offices are open every day from 7:00 A.M., 7 days a week, offering support services and emergency requests, 24/7.
Budget Holiday Safaris offers affordable safari tours to Kenya, Tanzania, and Uganda. Kenya safari packages have been crafted to suit different travelers. Find our Kenya budget safari packages, affordable Kenya lodge safari tours, Luxury tented camps safaris, Mount Kenya Climbing safaris, Tanzania budget safaris, and Tanzania lodge safaris, Mount Kilimanjaro Climbing safaris as well as beach holidays.
We have regular departures and customized private Kenya safaris and safaris to Tanzania designed to suit all travelers looking to travel without breaking the bank. Those interested in high-end safari tours to Africa will also find the best African safari packages with us.
Our combined Kenya-Tanzania safaris ensure that you get to experience the best of East Africa while on your Kenya-Tanzania safari tour.
We offer you private airport transfers and more ground services which include hotel bookings and more.
Whether on a Kenya budget safari tour or combined Kenya –Tanzania, an African safari has something special for everyone, from the vibrant cities to the distinctly exhilarating safari experiences, to the stunning Indian Ocean beaches and the local communities. You are guaranteed of a remarkable and iconic experience that familiarizes you with Kenya, Tanzania, or Uganda.
AMAZING BUDGET HOLIDAY SAFARIS- KENYA TANZANIA SAFARI PACKAGES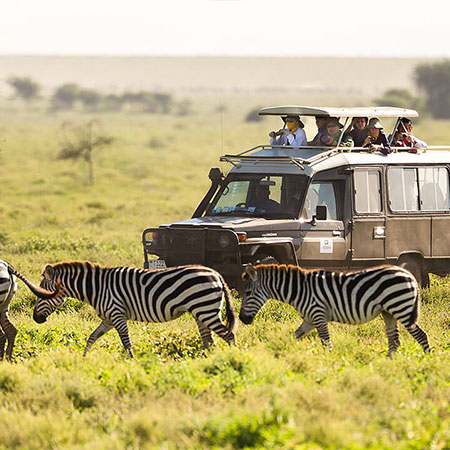 KENYA | TANZANIA SAFARI TOUR PACKAGES
MAGICAL KENYA SAFARI HOLIDAYS
12 Days amazing Kenya and Tanzania budget safari holiday
12 Days amazing Kenya and Tanzania budget safari holiday, covers some of the best wildlife parks in Kenya and Tanzania. Scenic, captivating, stunning, and a thrilling Africa safari experience that takes you closer to nature to marvel at all its wonder.
This 12 Days amazing Kenya and Tanzania budget safari holiday is for adventure seekers looking for a real close encounter with wildlife in their natural habitats. You will start from the most famous game reserve in Kenya, the Masai Mara.
FAQ'S ABOUT BUDGET HOLIDAY SAFARIS AND BEST TIMES TO GO FOR A SAFARI
How big are your groups in the budget safaris?
Each vehicle has a maximum of 7 or 8 people in each vehicle. Each person has their own seat and is able to access the safari vehicle open roof, during game viewing.
What vehicles are used for safari in Kenya and Tanzania at Budget Holiday Safaris?
In Kenya, all the group tours use the Kenya safari vans. If one is on a private safari, they can request for the 4X4 Land cruisers. Private tours use the safari vans as well if you prefer that.
In Tanzania, all group and private tours, use the 4×4 Land cruisers.
What is the currency is used while on safari in East Africa?
If you will need to buy anything from the local shops, you will need the local currency. For Kenya, Kenya shillings, Tanzania, Tanzania shillings and Uganda- Uganda Shillings.
Some hotels in the city will accept US Dollars, however, the smaller hotels will not accept foreign currency.
The big hotels will accept payments using credit cards, however, it is best to inquire with your hotel at the time of booking if they accept card payments or US Dollars.
Most souvenir shops that you will see on safari, accept US Dollars.
Kindly, foreign currency coins are not accepted anywhere in East Africa. The US Dollar notes need to be above the 2009 series and above, as notes below that series, have problems with our banks and bureaus hence they will not be accepted at all.
Do you offer complimentary pick-up and drop-off from the airport to the hotel and vice versa?
We do our best to ensure that you have a smooth and excellent experience while on safari.
We offer a complimentary pick-up and drop off from the airport to hotel upon arrival and a drop off at the airport/hotel/residence after the safari.
How do I pay for the safari at Budget Holiday Safaris?
Budget Holiday Safaris accepts online payments by credit cards through our website, PayPal transfers, and bank transfers (incurs charges when sending the money), this is for the deposit payments. These online payments have a surcharge of 3.5% to 6%.
You may also decide to make a full payment prior the date of travel, all the necessary charges will apply depending on the method you choose.
The balance payments are paid in our offices by card or cash. Kindly read number 3 on the USD notes allowed. All payment by cards at our office have a surcharge of 2.5% and are subject to the exchange rates of the day.
All terms and conditions apply. Kindly see here, our terms and conditions.
What are the requirements for entry in East Africa?
Tourists must have valid passports, at least 6 months valid upon the time of entry.
One must also have a valid visa. In Kenya, you can get a Visa upon arrival at the airport, the process does not take long.
You must also have a valid yellow fever card, showing you have had the vaccine within the last 10 years. This is mandatory when entering Tanzania and Uganda.
If landing at the Kilimanjaro International Airport in Tanzania, kindly ensure to have your visa in advance.
A single entry Visa is valid for 90 days in Kenya and Tanzania, you can enter and leave the country within that period without applying for a new Visa.
For our safaris, most international flights land in Kenyatta International Airport((JKIA- Nairobi, Kenya), Kilimanjaro International Airport(JRO in Arusha, Tanzania) or the Entebbe International Airport(EBB, in Kampala, Uganda)